Hello Bloomie friends! Today's newsletter is chock full of fun Easter kits,
a ton of kits from Creations by Rachael, and some fun new CU items too!
Remember that our New Arrivals are 20% off Friday and Saturday only, so be sure to
snag them this weekend! We are so very excited about our big Bloomfest 2011
coming up April 15th-21st. We will be featuring a huge collab that we will be
giving away on our Facebook page so be sure to Like our page
and get ready for the collab and our other Bloomfest activities!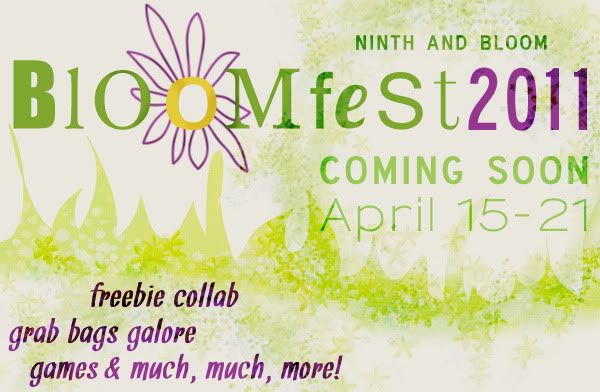 Native Spirits by Alissa Jones

Eggs To Dye For by Tracey Monette

Spring Field Trip by Tracey Monette

Egg Hunt by Sandra Edwards & Damayanti Studio

You Make Me Happy by Creations By Rachael B

Starting Anew by Jay Day Studio

Road Trip by Creations by Rachael B

Gone Fishing by Creations by Rachael B

Passport Required by Creations by Rachael B


Happiness by Creations by Rachael B
Hey Diddle Diddle by Creations by Rachael B
Wings and Wildflowers by Creations by Rachael B

CU Classy Frames by Makita Studio
CU Mini Resin Flowers by Makita Studio

Photo Backdrops by Helly Designs

Krafty Damasky by Christy Lyle Designs

Krafty Dotty by Christy Lyle Designs