Kando-tekina Te (Touching hands)
A few weeks ago we became aware that a Brazilian scrapper, living in Japan is running through a lot of difficulties due to the 11th March Tsunami, and really needing all the help she can get. She is known to many of us, as she is part of the international digiscrapbooking community. Her name is Aline Armani.
Fortunately she didn't suffer the physical damages of the Tsunami and Earthquakes directly, but the company her husband works did. It was closed for almost 2 months, the salaries have been cut to half since then, and she has 3 kids. Just to get an idea, she told us a pack of 10kg of rice costs around US$30.00 .There is no way this wouldn't touch our hearts and conscience to try to help her even if it is for a while. We all know that Japan needs all possible help, and we are sure the whole world is working to help them. This is our small contribution to help someone from our own community.
We, the designers at

Digiscrappers

Brasil

, got together with all our friendship and affection for Aline and created this fabulous collaboration kit. 100% of the sales will go directly to Aline and her family (except PayPal/PagSeguro comissions). This was the way we found to help them in this difficult moment of their lives.

What we are asking you is to help us to help Aline and her family by purchasing this wonderful Mega Kit and the matching album.
Our fantastic Scrappers generously created this gorgeous Album also available at the Store.
If you like them both (the kit and the album) we also have a Bundle with 20% discount at the store.
100% of the Sales (except the Paypal/Pagseguro taxes) will go directly to Aline and her family.
We thank you from the bottom of our hearts for your time that allowed us to talk about this project that makes us very proud, touches us deep in our hearts and moves us towards our neighbor.
In Portuguese / Em Português aqui.
----------------------------------------------------------

My page

---------------------------------------------
A preview of all the sales and great deals @ 9th & bloom
for iNSD check it out starting

FRIDAY May 6th, 2011




--------------------------
Available @ Scraptaboutic

Le temps des fraises
by Lilibule Scrap Design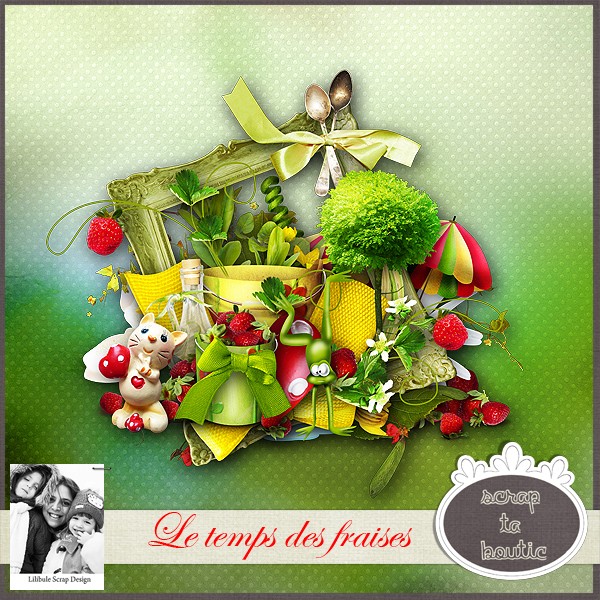 My page